We are on the 'road' again! We left our winter berth at Marina di Ragusa in Sicily and headed for Argostoli on Cephalonia in Greece. A trip of just under 300 miles straight across (so no land along the way to stop)  and we made good time, getting there in 48 hours. Long, overnight passages always make me a bit nervous before we start, but once we are underway, there is usually a magical moment or two.
One of those was when Beau spotted his first 'real, wild dolphin', as he himself put it. He was the first to notice one of a group of dolphins swimming on our wake and passing in front of the bow. The kids were so excited, and so was I. They are such beautiful creatures. Off course I did not get a photo – too slow!
My first night shift was great, a near-full moon and clear skies. The next night shifts were pretty boring. I usually end up snacking my way through them to stay awake.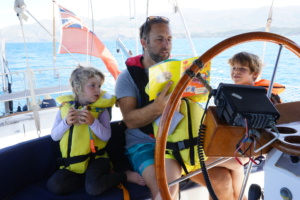 The kids are pretty good underway, although they do find long passages boring. We try to keep them entertained with stories, games, and encourage them to nap 🙂