Early morning arrival
After an overnight sail from the island of Milos, which covered about 80 sea miles, we arrived at Monemvasia on the Greek mainland early in the morning. The sun was just rising. The tiny peninsula of Monemvasia looks like a massive lump of rock from a distance. As you get closer, you start to discern the houses and many churches of the old Byzantine town that it is built into it. The buildings are the same colours as the rock looming over it, so they blend in and look completely as if they should be there, exactly like that.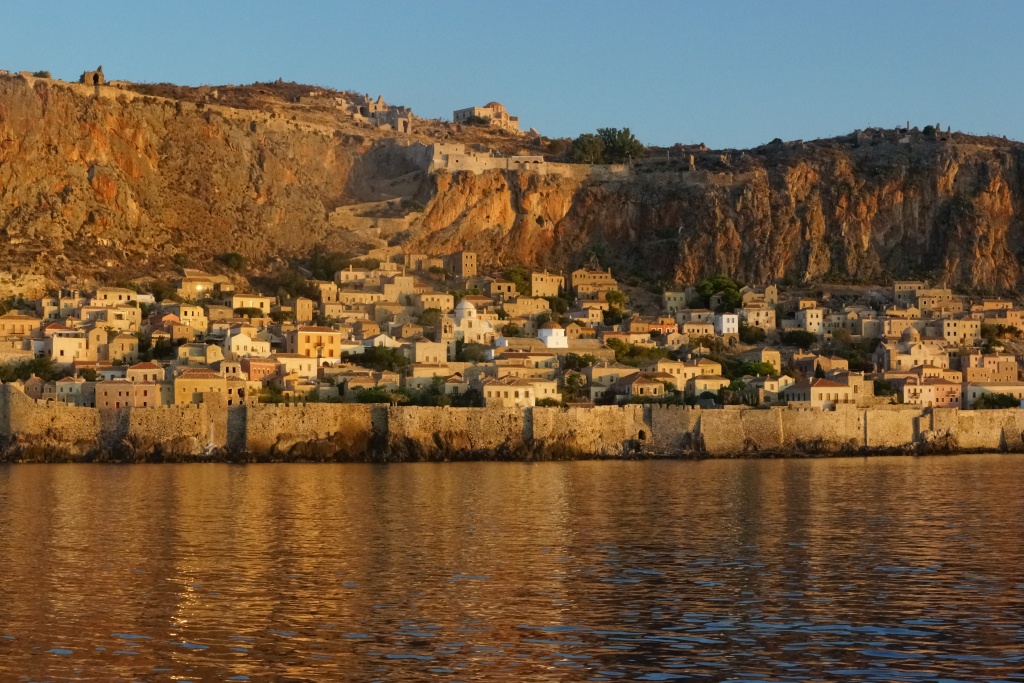 You can't bring a boat to the old town itself since it is surrounded by high walls rising straight up out of the water, so we tied Spacegrazer to the town quay of the nearby town on the mainland. The kids quickly spotted the local playground, so that's where we were going first!
Next morning we started for the old town early. As soon as we entered through the city gates in the fortified wall which surrounds the entire town, I felt a sense of calm. Monemvasia feels very old and still, serene even. Yes, the main street is lined with souvenir shops and restaurants, but that is not a problem – the whole atmosphere remains very relaxed.
Tired of exploring – we found cannon balls but could not lift them! – the kids needed feeding so we sat down for a decadent lunch of spinach pies, waffles, and ice cream at a little cafe. The kids looked in amazement at the process of waffle-making, and have added a new favourite food to their lists… another sugar and carb laden one, surprise surprise!