Heading for the Sporades islands from the Corinth Canal, we made a couple of short stops. We enjoyed being anchored in the bay under Cape Sounion for a couple of nights. It is a beautiful place, with an ancient temple to Poseidon on the top of the cape.
Temple raiders
We met up with Stella and Keith on Ananda – more friends from our winter marina in Sicily. We went on a walk up the hill together, to explore the ruins of the temple complex. The walk was long, and often uphill, but the kids did really well. We had found a forgotten packet of biscuits in our backpack, which helped.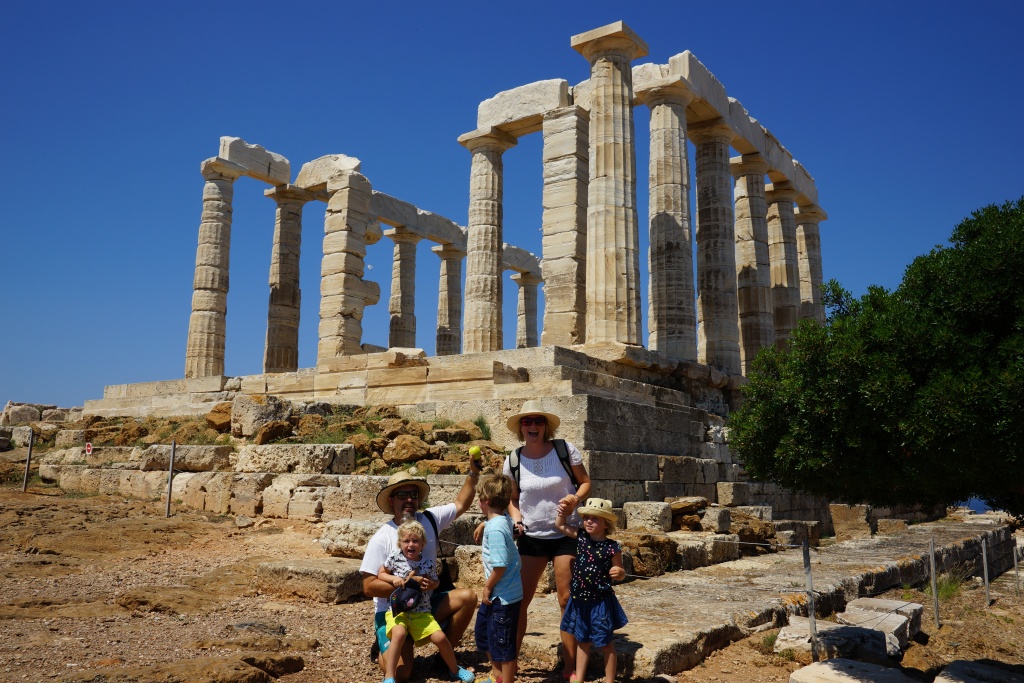 Our friends from High Flight arrived in the bay the next day. We got to celebrate Sinem's birthday with her, which was great fun. Since it was a super-hot day we spent most of the time in the water.
Sporadic Islands
The word 'sporades' means 'scattered ones' – hence 'sporadic' in English. The first Sporades island we visited was Skyros. The first night we spent in a gorgeous little deserted bay, pointed out to us by a couple of fishermen. The next day we moved to Pevkos beach, and anchored in the bay there for a couple of days. The kids loved swimming out to the rocks and playing there, exploring unseen by mum and dad (or so they thought). Amazingly, they came swimming back to the boat with a couple of plastic bottles they had found on the beach, and said that they wanted to tidy up the rubbish and asked if we could please throw these in the bin! Proud moment 🙂