Making friends
On our way south to Kos to meet up with Max's mum and dad, we stayed in Patmos a few days. A couple hours after anchoring up, a boat with a Dutch flag came sailing into the bay, with kids on board! So we waved ecstatically and invited them on board. Wouter, Joan, Stasha and Scolt were up for it and ended up staying for dinner. We were low on fresh foods so they provided the fresh veggies and we made a big pot of spaghetti. We had a fun evening together. The kids really enjoyed having Dutch-speaking, and older, children on board for a bit.

Snaky path
Patmos has a beautiful old town, chora, on top of a hill. Perched way on the top is a 13th century monastery. We had fun exploring the lower town of Skala, then taking the bus up to the top to explore the chora and the monastery. We did go into the actual monastery, but it was quite hard for the kids to be quiet in the right places, and the impressive museum did not impress them at all! Ah well, after a break in a cafe we walked back down along a walking track back down to Skala.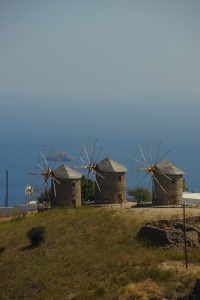 The ladies in the cafe had told us that there were two walking tracks to choose one. The first one might have poisonous snakes and the second one probably would not. We chose the latter… I tried not to think about how they could be sure that the poisonous snakes would stick to path number one only. The walk was gorgeous and the kids did great.