We are heading east through the Gulf of Patras and then the Gulf of Corinth, to cross from the Ionian Sea to the Aegean Sea by way of the Corinth Canal.
Messalongion
We stayed in Messalongion for one night, "famous" because Lord Byron died there. It's a funny little place at the end of a canal that is fringed with houses and shacks with little wooden pontoons on stilts. The locals were so friendly, many of them waving excitedly at us as if we were old friends. Our kids loved it because one of the tavernas had an inflatable bouncy slide – much cooler than some dead poet!

Water under the bridge
Another highlight was going under our first bridge! Just before you go under you think the mast will be too tall, but then it all just goes fine!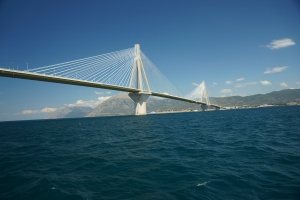 Navpaktos
After going under the bridge, we stayed the night just outside the tiny walled medieval harbour of Navpaktos – Spacegrazer is too big to go in. Navpaktos is gorgeously situated, with a large castle on top of the hill. It used to be called Lepanto, and this is where the battle of Lepanto took place – Greeks vs. Ottomans in one of many battles… (and in this one, the Ottomans were beaten).
Trizonia
On to Trizonia the next day – a tiny island with a secluded bay. The bay has a marina that was built but never finished. Boats still use the pontoons and quays but we preferred staying out on anchor. We went for a walk and the kids discovered exciting things like rocks, sticks, and a giant spider encapsulating a giant beetle in its web…