Santorini is such a stunning, strange place, that I do not even know how to start to describe it.
Wikipedia has this to say:
Santorini is essentially what remains after an enormous volcanic eruption that destroyed the earliest settlements on a formerly single island, and created the current geological caldera. […] It is the most active volcanic centre in the South Aegean Volcanic Arc, though what remains today is chiefly a water-filled caldera. […] The region first became volcanically active around 3–4 million years ago, though volcanism on Thera began around 2 million years ago with the extrusion of dacitic lavas from vents around the Akrotiri.
So those are the dry facts! What we saw was a collection of impressive high islands, that look totally stark and uninhabitable upon first impression, then turn out to have stunning villages built on the top. We wondered who came up with the idea to build their first house there, and why, as it is such a bizarre location.
We rounded the island of Thira from the south-east first, then entered the submerged crater, or caldera. It was massive, much larger than we imagined. Cruise ships, ferries, and lots of other sailing yachts were all going around. And this is inside the crater of a volcano, people!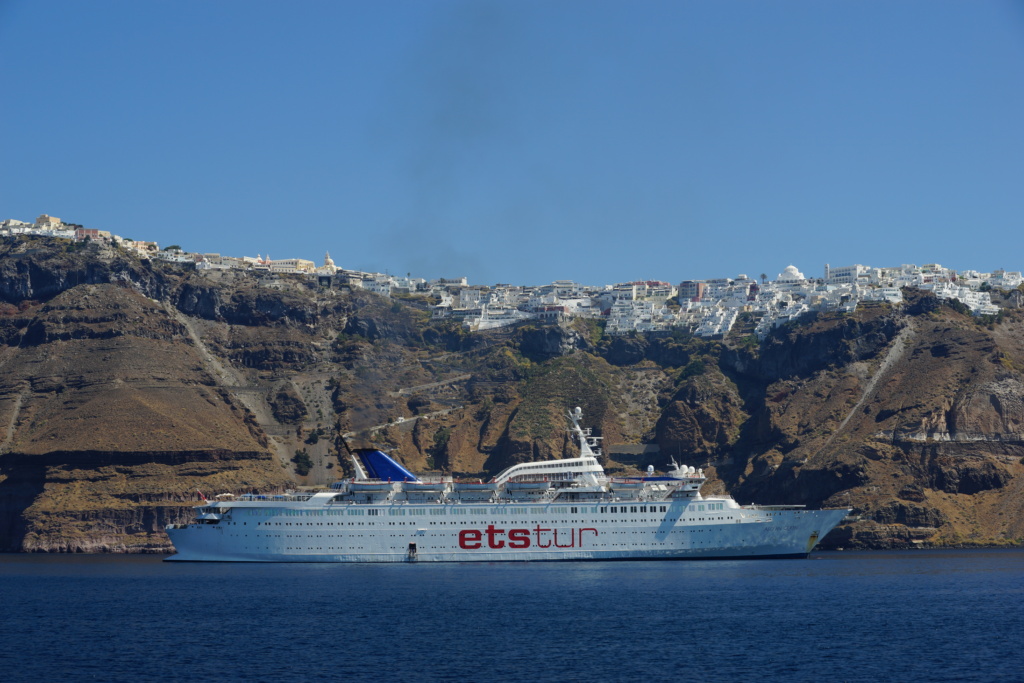 We picked up a mooring buoy on the island of Thirasia, which is smaller and quieter than Thira. The mooring buoy belonged to Captain John's restaurant, so we just had to have lunch there! Luckily the captain's lunch was delicious…. The bay we would be staying at for two nights was lovely, with only a couple of fisherman's houses and families left at the end of the day when the day tripper tourist boats left us. I watched the sunrise over the crater the next morning. It was breath-taking.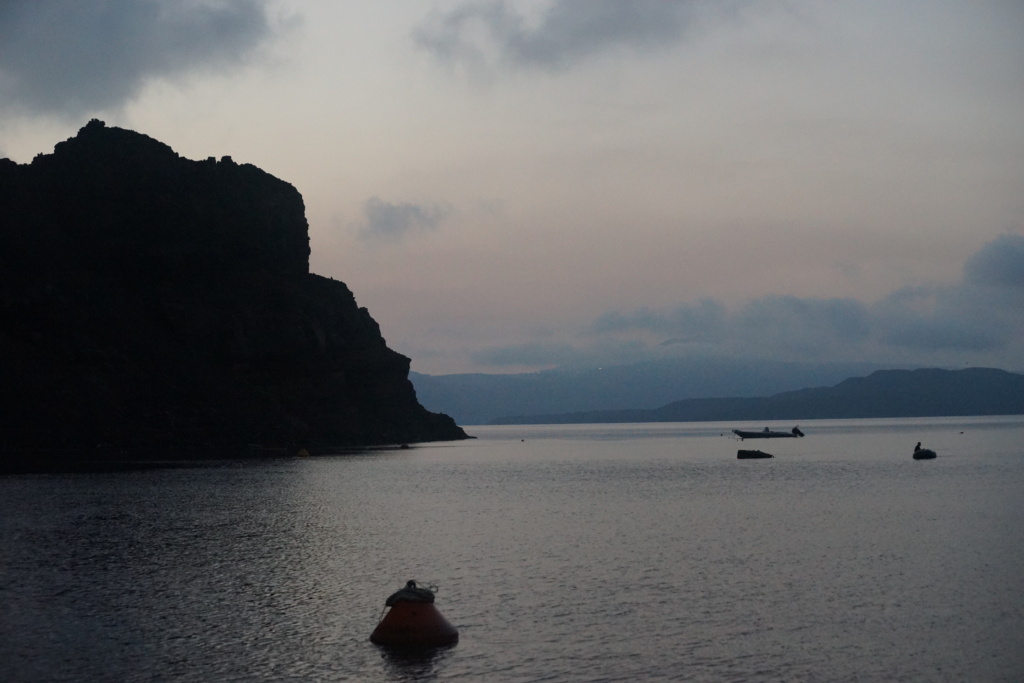 To visit one of the main towns, Oia, we took a small ferry from Thirasia to Thira. We did not move Spacegrazer to Thira since it is way to deep to anchor there and quite a hassle to get a mooring buoy and then another boat ride up to the town. It was fun to go on a different boat for a change, and the kids enjoyed playing with the ferry's own ship's dog.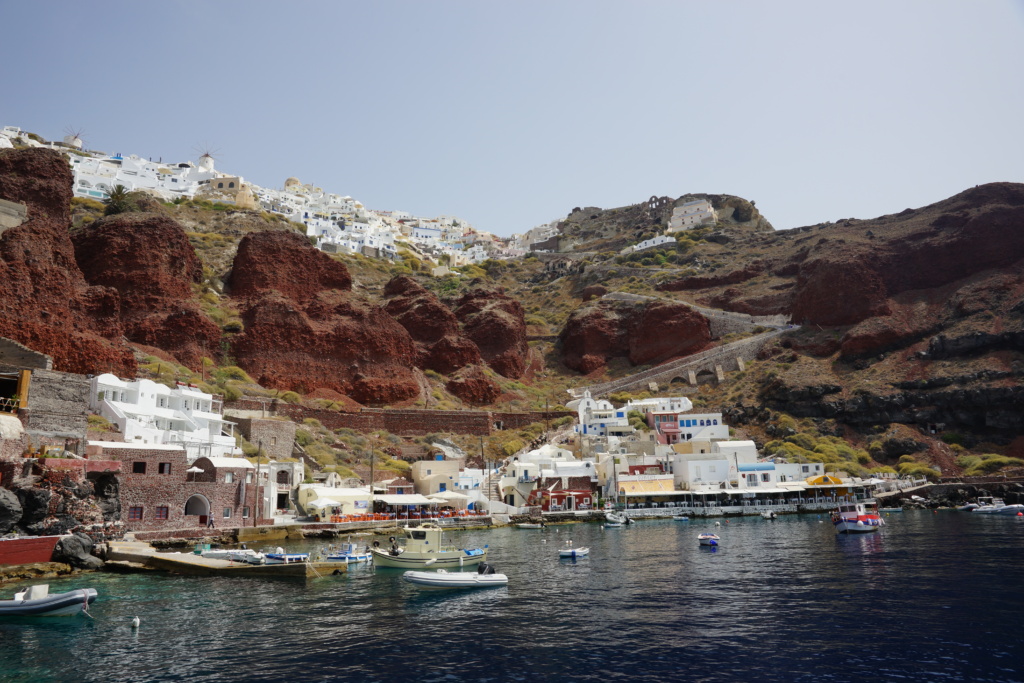 Exploring Oia was a great adventure. We had to climb up a steep zig-zag path, with stone steps. The steps were helpfully numbered every 5 steps. Luckily we had no idea how many steps there were in total. We stopped counting at 210… We could have hired a mule but really did not relish the thought. This was confirmed when a couple slid down from their mules near the top of the hill, giggling nervously and telling us 'No, you don't want to ride those mules!'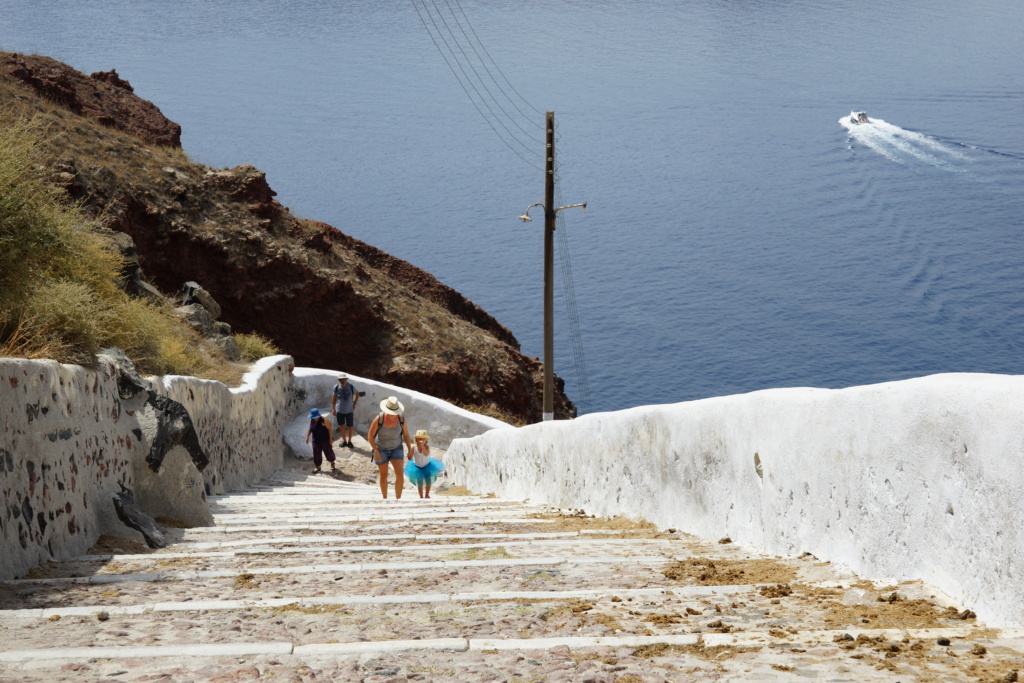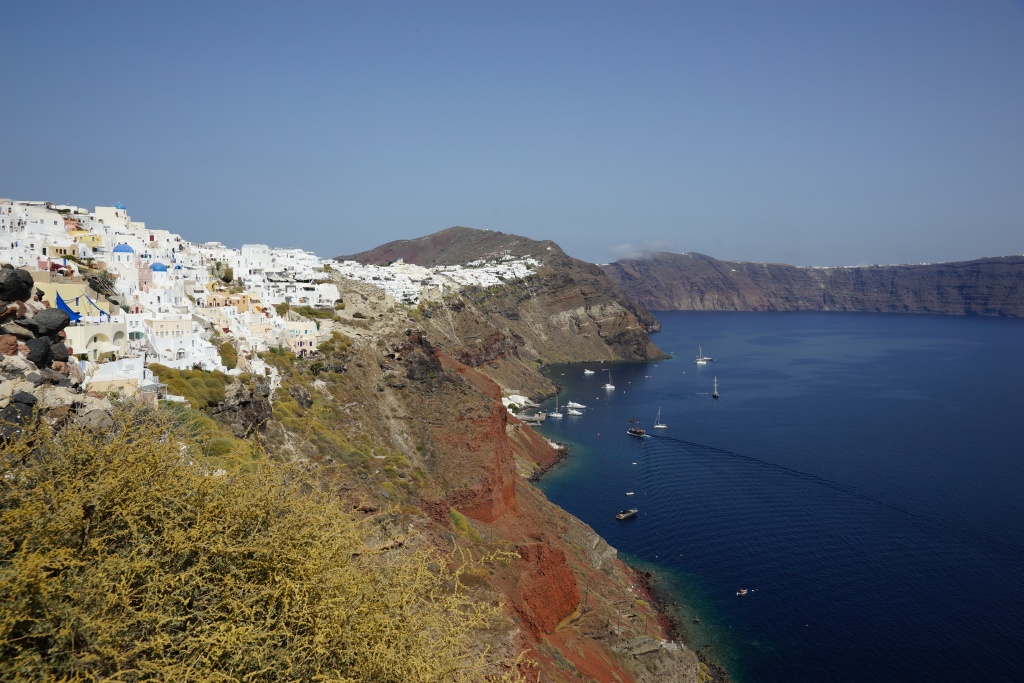 Once up in the town, it was quite busy and hot but so so beautiful. It is just unlike any other place I have ever seen! Santorini is definitely the most touristy spot in Greece that we have been to, but it is so gorgeous and unique that it was certainly worth braving the crowds.